NETWORK-Lipolysis
5 years of NETWORK-Lipolysis







A personal look back by Dirk Brandl - Part 1 ...
In the year 2003, my friend and business partner Ulrich Bunzek and myself, as managers of the marketing agency "Lichtblick", were supporting several clinics and cosmetic medical institutes within the scope of a bigger structure, the Network Synthesis (including a plastic surgery clinic, a medical institute, IRIN GbR, Lichtblick GmbH Marketing, Genesys Gene Arrays, as well as creative projects such as photography and music). Ulrich has a degree in graphic design, while I myself studied photo engineering and journalism.
In June 2003, a surgeon at one of the clinics we were working with, together with 5 other physicians, attended a course in injection lipolysis. On the initiative of Dr. Lettko, Wiesbaden, Dr. Patricia Rittes of Brazil was invited to hold the course, with Dr. Lettko undertaking the organization. It was Dr. Lettko (a NETWORK member) who coined the term "Injection Lipolysis" and thus gave the new therapy its name.
Following the course, we, as part of our professional task, proposed to market this new form of therapy. However, given the poor state of the scientific data available, the clinic management and also the surgeon himself were unsure how and whether they should offer this therapy at all, and therefore categorically refused to present it directly to their patients. In view of this, and because we ourselves were highly interested in the therapy, the Network Synthesis instructed us to develop an appropriate form of implementation of the therapy, for here, at last, there was something completely new in the field of aesthetic medicine.
We then had the idea of forming an information network with all the course participants and of using the Internet to ask practitioners throughout the world for their experience with injection lipolysis. However, we were told by the course participants: "No, we can't do that, the therapy has no scientific foundation, and our reputations are at stake." The clinic also refused to assume any responsibility and advised us to operate the platform under our own name instead.
So within a very short time, we created our first – very simple –homepage which we placed on the Internet as an open platform for the therapy, with the intention of allowing both advocates and opponents to have their say and exchange arguments. We called the platform "NETZWERK-Lipolyse" – "NETWORK-Lipolysis", and we should say that still today we have remained true to our philosophy of openness towards even the most critical opinions concerning the therapy.
By the end of the year 2003, the platform had its first 3 paying members: Dr. Gerny, the first lipolysis user in Switzerland, Dr. Hasengschwandtner, the first lipolysis user in Austria, and a doctor in Vienna – all of whom had undergone training in the Rittes method.
But what we also had were over 80 inquiries from medical practitioners in Germany, asking about training opportunities! Our standard reply at the time was: "Fly to Brazil, pay US$ 5,000 and have yourself trained by Dr. Rittes in the course of an afternoon." So we were all the more surprised to hear the response: "Sorry, that's not possible – but couldn't you provide the training?" It had never crossed our minds that we could become involved in training doctors; after all, we were marketing specialists, not medical instructors.
Towards the end of the year 2003, Ulrich Bunzek, the two Network Synthesis managers and I sat down together to discuss the evident interest in lipolysis and concluded that if we didn't do the training, it would only mean that sooner or later the interested physicians would start treating their patients without a protocol and without any form of prior training. So we decided to try and arrange a meeting with the doctor in Vienna and Dr. Hasengschwandtner in order to determine whether one of them was in the position to provide proper and professional training. We also had the idea, which seems naïve today, of limiting the training to a total of 50 physicians only and to embark with them on the process of collecting data, with the initial goal of performing 5,000 documented treatments and so have some objective facts to hand.
In early 2004, we travelled to Vienna and Bad Leonfelden and discussed our plans with the two medical practitioners. In Vienna, we found ourselves confronted with some highly elitist ideas on pricing and admission (EUR 5,000 per participant, training open to plastic surgeons only), and without any proof of qualification or documentation of treatments. With Dr. Franz Hasengschwandtner, we found a completely different situation: He had known the substance used in lipolysis for 30 years, he had already treated 187 patients with documentation, he had already extended the Rittes protocol, and he had similar ideas regarding the financial and quality aspects of the training as we did. We were quite simply on the same wavelength. We sensed the same curiosity in him as we had ourselves in finding out more about this treatment and how it works.
After much thought and much talking to other doctors about prices and the structure of a course, we scheduled the first lipolysis workshop for 28 February 2004 in Dortmund. For us, this date is the real birth hour of the NETWORK-Lipolysis, for we experienced that degree of enthusiasm on the part of the participants that welded them and us together into a strong NETWORK community in the first place and that has still not weakened even after 5 years. Dr. Eichelberg, Dortmund, very kind placed his practice at our disposal for the practical treatments.
Dr. Franz gave his presentation off the cuff, busily drawing body regions and injection points on a flipchart; he had also brought a number of before & after patient photos with him in the form of colour photocopies. Ulrich told me that he will never forget how Dr. Kardorff (still a member today) took him aside after the practical demonstration and said: "The course was very good. Especially the practical part was excellent. But you really should be aware that it is now standard practice at further training courses for the theory to be presented in the form of PowerPoint presentations. If you can see to that, the course will be genuinely first-class." We gladly took him up on that point and made the necessary changes; after all, we had already been involved in didactic and visualization matters in connection with our Synthesis activities and were able to make use of our professional skills.
End of Part 1, to be continued in the next circular ...
A personal look back by Dirk Brandl - Part 2 ...
We soon had our first homepage in English and inquiries from interested medical practitioners. In June, I received an email from John Curran, a leading member of the BACD (British Association of Cosmetic Doctors), asking if it would not be possible for us to hold a workshop in London.
Up to then, with our classical marketing activities, we had only operated at local or national level.
Now we had London in our sights, and up to that time I had only ever been on a plane two times in my life. Dr. Franz, as he soon become known - partly on account of his surname, which non-German speakers found unpronounceable - was, by contrast, a well-travelled man, for every year he had flown to faraway places with a group of people from his village under the label "Papa Doc Reisen", and had therefore already been just about everywhere.
July 2004 saw our first English workshop, which was held in the medical practice of
Dr. Rita
Rakus. The second workshop followed only a short time later, this time in the
practice of Dr. Mervyn Patterson and his wife, Dr. Hillary Allen. From this day on, cooperation with the BACD developed very fruitfully as the
therapy proved very popular with the patients in the UK.

Hardly had we returned from London when we experienced our first major stir. We were informed that one of Dr Mervyn's assistants, who had been treated by us, had had to be taken to hospital. The telephone wires between England, Germany and Austria were soon red hot. Dr. Franz also got in touch with the people at the hospital, for the treating physicians had noticed the large number of injection punctures and suspected that there could be a connection. For us, this was a very difficult situation. We had not yet known Dr. Franz long enough for a relationship of absolute trust to become established, and nobody could be completely sure that the therapy might not cause severe side-effects after all. The responsibility we all felt and the stress this situation caused for all of us were enormous. One wholly positive aspect, however, was the solidarity we experienced between all the people involved, whose only interest was in working together to get to the bottom of the problem. At no time were there any recriminations or reproaches. I would like to take this opportunity to thank Dr. Patterson and his wife Dr. Hillary Allen once more for their solidarity during that time. Luckily, in the course of the week, Dr. Patterson rang us to give us the all clear. It emerged that only the day before the treatment, the patient had returned from a holiday in Spain where she must have contracted salmonella poisoning. The relief we all felt is not hard to imagine.
In 2004, we held 4 more workshops in London, the city becoming something of a home from home. But also in Germany, increasing numbers of patients were hearing about the therapy and calling us or sending us emails. During this first year, Dr. Franz was hard
at work developing a therapy protocol as he disagreed with the protocol put forward by Patricia Rittes. He found this as having too many treatment sessions and the overall not being high enough, but at the same time the dose at each injection point being too high. The 14-day treatment interval also clashed with his own observations. He was able to draw on his many years of experience in use of the substance combination PPC-DOC contained in two drugs which were still licensed in Germany at that time, namely Essentiale (liver protection) and Lipostabil N® (fat embolism). He also collected and studied all the published literature on the effects and usages of the active substances. The result of his efforts was available in March 2004: The protocol was completely revised and rewritten on the basis of scientific and medical knowledge. At the same time, Dr. Franz was researching the possibilities for improving the combination of active substances.
Subsequently, in June of that year, he was invited to a "Lipodissolve Convention" in Laguna Beach, USA, where he met Patricia Rittes for the first time. It was at this event that he also made the acquaintance of Dr. Diane Duncan, who in her capacity as a plastic surgeon had carried out studies of fat tissue and reached conclusions that concurred with Dr. Franz's proposed changes to the treatment protocols.
In November, we then invited all the physicians who had undergone training so far – numbering more than 160 – to our first Members Conference in Frankfurt. More than 75 of them took up the invitation. Three things in particular about this first members' meeting have
always remained in my memory: First, Dr. Franz presented his newly developed compound, triggering a heated discussion. Second, following the conference, various research groups were set up to examine individual aspects of the therapy more closely and - if possible and necessary - put forward proposals for new treatment protocols. And the third thing that has always stuck in my mind is the dinner that was held afterwards and that for me has become a symbol of what the NETWORK stands for: There were heated discussions, though with people from several different countries all seeking to collaborate in a spirit of solidarity and friendship, while towards the end, Patrick Treacy borrowed the guitar from the guitar soloist we had engaged, and we all ended up singing songs and celebrating an unforgettable ad hoc party.
The end of the year 2004 was marked by the first major challenge that the still young NETWORK would have to face: In December of that year, we held a workshop for 12 doctors working for the Collagenics chain in London. Collagenics has most of its treatment rooms in cosmetic studios and, as we later learned, also in hairdressing salons run by the same management. We were warned by a number of British members of the aggressive marketing methods employed by this chain. The confrontation with this issue posed us with some fundamental questions: In what cases and to what extent should we as a NETWORK become involved, and where and to what extent should we leave it up to the physicians themselves to decide what they should do? Some members advocated a course of controlling everything down to the last detail, while others wanted little or no involvement at all on the part of the NETWORK.
Ulrich and I were uncertain what to do and discussed what approach we should adopt both internally and with Synthesis Management, our advisers, who throughout this whole time had given us important strategic tips. We finally reached the conclusion that we should only intervene where individual members acted in breach of the national laws of their countries, but that we should not seek to regulate our members beyond what the national laws required of them. At the same time, however, we concurred with our members that the therapy only belonged in the hands of fully qualified doctors and should not be carried out by nurses, even in countries where the latter are allowed to do far more tasks than they are here in Germany. It should be pointed out, though, that NETWORK physicians can have their nurses trained by the NETWORK, provided it is the doctor who decides on application of the therapy and the nurse only carries out the practical treatment in accordance with the doctor's instructions.
In the same year, we were confronted by some doctors with the Brazilian "pig poster". A
poster was shown at a conference claiming that of 6 piglets treated with PPC, 2 had died after the injection. This was a typical example of how attempts were made to denigrate lipolysis therapy and influence opinion against it at that time: Right since 2004, this alleged "pig study" has consisted entirely of the poster, with no further publication ever being made. It appears that six piglets were injected once a week in high dosage with a Brazilian PPC compound (???) with an alcohol content of 50% (rather than 3.5%). The outcome of our investigations was that pigs are lacking an enzyme and therefore only have a limited ability to break down alcohol. We therefore assume that the death of the pigs was in fact not caused by PPC, which would indeed have been highly unusual.
2005 was a year in which we, and myself in particular, were suffered through our own incaution and insensitivity. We continued to hold our workshops in London, but received emails from our members that British institutions were taking action against lipolysis. There was even talk of the possibility of a possible ban. What happened was that the MHRA (Medical Health Registration Agency) prohibited advertising for the therapy and the import of Lipostabil by physicians, while the MPS (Medical Protection Society), the state-run English insurer, refused all further insurance cover. So in mid-2005, our activities in the UK came to an abrupt end. The BACD, which was much better able to judge the legal situation in the country than we were, engaged a lawyer to represent its (and our) interests, while we mostly concentrated our efforts on obtaining international insurance cover. Lipolysis treatment in the UK almost came to a full stop. We saw dark forces at work, e.g. plastic surgeons concerned about losing their liposuction business, and engaged in conspiracy theories. Looking back from today's vantage point, I can say that this had mostly to do with providing cover for our
own inability to handle the situation rationally and in a strategically intelligent manner. Without the active help and support of the BACD, we would not have been able to resolve this delicate situation, and I would once again like to express our most sincere gratitude for this to those in charge in the organization.
We were given a second, and at least equally important lesson in Italy. Although we should have been warned by the events in the UK, we offered courses in Italy. At our second workshop in Rome, the Guardia die Sanita (Health Police) marched in, confiscated the stock of Lipostabil we had brought with us for the treatment demonstrations, and barred us from conducting any practical demonstrations. In this case, the conspiracy theory was not far from the truth: The Guardia had received an anonymous tip-off about the training course we were offering and had therefore sprung into action. Essentiale had been registered in Italy for several decades and had only recently been taken off the market. A little later, workshops were held by Italian physicians on the basis of our protocols and using Phosphatidylcolina produced by a number of pharmacies.
Since that time, legality has been a pre-eminent issue in offering courses in other countries, with careful research and close contact to the official bodies becoming a matter of course. We ourselves were perfectly aware that the therapy did not present any danger if performed in accordance with the NETWORK protocols, but we simply had to bow to the national authorities and recognize that they had no alternative but to comply with their national laws and regulations. In this sensitive area, guerilla marketing would have been counterproductive.
End of Part 2, to be continued ...


5 years of NETWORK-Lipolysis
A personal look back by Dirk Brandl - Part 3...
In the course of the year 2005, we – i.e. my friend Ulrich Bunzek, our advisers and friends of Synthesis, and myself – found ourselves facing a number of very important questions and developments:
The number of inquiries about training had risen sharply, and we were, in particular, also contacted by doctors in countries located geographically a long, long way from Germany. The creation of a worldwide NETWORK therefore took on a completely new significance for us, and was strongly coloured by our practical day-to-day experience.
How were we, without forewarning and without any preparation, supposed to be able
to meet all the requirements involved in the creation of a network on a worldwide basis? As the responses to our training courses had shown, many medical practitioners found the network idea highly attractive, but was this also true in other countries, such as Australia, China or the USA? In our view, personal communication with the NETWORK members was a key element in creation of the NETWORK. Would that still also be possible on a worldwide basis?
With the first courses outside of Europe, questions such as the availability of the necessary drugs and issues of member support took on a new dimension, and also such seemingly banal matters as currency exchange rates suddenly had to be additionally taken into account in the context of workshop planning and membership fees.
With the Steunpunt Apotheek in the Netherlands, we succeeded in finding a
qualified and exclusive partner for production of the NETWORK compound for our members in Europe outside of Germany and Austria. As well as giving our members the standardized treatment protocol, it was of key importance to us to be able to legally provide our members with compound of uniform quality in order, among other things, to have a reliable basis of comparison for analyzing the treatment results. On this basis, we were then able to hold NETWORK workshops in London, Paris, Rome, Athens and Istanbul.
The increase in the number of inquiries about workshops led to the development of a training concept for NETWORK trainers so as to allow workshops to be offered in Italy, France and Turkey, using the standard protocols but held in the local language. But also the member support for these countries gave rise to considerable costs for translations alone - from the patient information sheets and information material for our members to the patient website of the ISL-International Society of Lipolysistherapy, all of which are so far available in 5 different languages.
At this point, I have to honestly state that in the years under review, we played a reactive rather than a proactive role. When an inquiry came, our primary focus was on offering the right training, but this was at the expense of continuous communication and loyalty-building – a strategically crucial error. However, this was, perhaps excusable, since our approach resulted from the desire to satisfy all inquiries and demands for training.
Looking back from today, some of the things we did were near-suicidal. Within 5 days, Ulrich Bunzek, Dr. Franz and I flew to Australia, signed an agreement with a compound pharmacy for the exclusive production of our compound for the members, held a workshop on Saturday for 30 participants in Sydney, flew the same evening to Melbourne and held a workshop there on Sunday, then flew back to Sydney, and from there back home to Germany and Austria -
a veritable horror trip. At the time, we were highly satisfied with the outcome; the participants were highly enthusiastic about the workshops and were keenly interested in the therapy. What we failed to give proper consideration to was the fact that we were leaving doctors behind us without any further support. The time difference alone made it virtually impossible to maintain normal contact. It was not easy for the doctors there to ask us questions, and not easy for us to answer them. So in essence, we had planted a lovely flower for our members in Australia, but then were not really in the position to water and look after it.
Australia: Dr. Michael Zacharia, Dirk Brandl, Dr. Franz Hasengschwandtner, Ulrich Bunzek
In the middle of the year 2005, it became clear to us that it was no longer possible for us to run our central office by ourselves; the demands had become too varied, and also too great in quantity. We were taking too long to deal with too many matters. The years 2005 and 2006 were of decisive importance for ourselves and the developing NETWORK. They showed us where our errors and weaknesses lay, and demanded ever more of us.
In the course of this year, during which Ulrich and I were travelling almost every weekend, we had to build and expand our back office and at the same time internationalize our existing structures –
from the bookkeeping and accounts to the mailing of products. As a network of this kind had never been built before, it mean that both we ourselves and our slowly growing team of salaried und freelance personnel found ourselves faced with new challenges every day that were both unforeseeable and for which there was no previous experience to draw on. Qualifications for this job could not be bought on the market; rather, like an expedition into unknown territory, they had to be developed along the way. There were no clearly demarcated job descriptions and specializations; instead, everybody did nearly everything. And our output at that time was correspondingly chaotic and disorganized.
We quickly realized that specialization and proper allocation of duties was essential, though without abandoning the holistic dimension of our NETWORK vision. Exact definitions of the individual work areas were developed, though without producing any immediate change to our challenging situation; on the contrary, the situation still remains challenging today, although much has meanwhile been systematized and allocated.
What work goes on inside the NETWORK that is not immediately visible to those not directly involved? I would like here to indicate just a few of the special challenges that we have had – and in some cases are still having – to deal with:
Our bookkeeping was suddenly required to handle currencies in addition to euros, and membership fees had to be charged in countries that have a completely different approach to memberships. We wanted to initiate university research to substantiate the effectiveness of the therapy. We needed trainers, and these in turn had to be trained; Dr. Franz could no longer bear the whole burden of trainer training by himself, but it was essential to maintain the training quality. The entire management system for the information on our training courses – registration, database integration, information on travel to workshop venues, as well as hotel reservations and price negotiations – had to be professionally built.
An aspect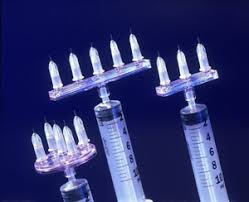 that was becoming increasingly important for our members was the offer of patient information materials and of aids for use in connection with lipolysis, such as the special pain-free needles or the Multi-Injector, use of which we incorporated into our protocol as it shortens the treatment time enormously. Or the marketing support for doctor's practices with patient flyers and such like, all of which had to be produced in the various languages.
A number of members asked about a new network for mesotherapy, for example, so what should be our approach to new developments? It also became a matter of increasing importance to publicize the standards developed by our members and to speak at congresses. Dr. Franz concerned himself in particular with the completion of further investigations, e.g. reviewing the liver test results of his patients. And up to this time, there was not a single picture in existence showing the in-vivo dissolution of fat cells. The Medical Advisory Board, newly elected by the members, needed support and an introduction to its tasks. And I myself, though a non-medical man, did not view the existing protocol as the last word; rather, I was sure that with gathering experience, the protocol could be developed and refined still further.
Development of the NETWORK-Lipolysis treatment protocol
2004 Dosage, treatment interval
2005 Compound (PPC/DOC + NETWORK additive (vasodilator & vitamin B complex) + diluent
2006 Adoption of the new Compound also for facial treatment
2008 Inclusion of skin tautening in the list of indications
2009 Side-effect management
Increasing numbers of patients were becoming interested in the therapy and contacted us, and also – especially in the face of negative press reports – the issue of dealing with the media and the public became more and more important. Many members told us that, had it not been for the NETWORK, they would have stopped using the therapy again in the face of this public headwind.
The problem was that the lipolysis medication, together with dubious instructions on how to use it, was sold on eBay for the patients to treat themselves – a highly dangerous development which we strongly opposed as it was bringing the entire therapy into disrepute. However, from 2006, Lipostabil was only allowed to be sold on prescription, so the therapy was once again placed exclusively in the hands of doctors.
Although we all of us did everything we could to the very best of our ability, it was only natural that during this years, not everything functioned as perfectly as it should and that we and our staff made lots of mistakes – although these enabled us to learn and develop further. Our shared philosophy was: "Everyone is allowed to make mistakes as long as they learn from them." To ensure that this learning process
could indeed take place alongside our daily work, we already at this early stage engaged external support in the shape of personal coaching and supervision. At our workshops, we asked our members to give us their positive criticism as a means of recognizing our weaknesses more quickly – a request that our members responded to and thus helped us in our work in building the NETWORK. Our thanks therefore go to our many members who have helped us with their critical solidarity, their patience and their ideas and suggestions, and have tolerantly borne with our errors and mistakes.

Over time, we developed and introduced a controlling system which, despite many new developments and challenges, today enables us to deal with our tasks in our professional manner.

I am rather proud that, with the help of everyone involved, we safely got through the turbulences that marked the beginnings of our Network, and succeeded in doing so through our own resources and without any outside financial aid. We have developed further in all respects, with the result that our international NETWORK has gained in attractiveness for the medical practitioners year by year.


End of Part 3, to be continued ...



Creation of the NETWORK-Lipolysis
The NETWORK-Lipolysis was formed in 2003 by Dr. Franz Hasengschwandtner, a number of other committed physicians, and the two network moderators Ulrich Bunzek and Dirk Brandl. It was initially planned as an open platform for the exchange of views and information on this new aesthetic therapy. However, as a result of development of its own therapy standards, treatment protocols and therapy compound, and also through the rapid growth in member numbers, the open platform turned into a network structure offering its members security in respect of the treatment, long-term international research and development, as well as marketing support. It also provides interested patients with comprehensive and objective information about the therapy.
What is a NETWORK?
What exactly is a "network", and what distinguishes it e.g. from a society? "Network" has today become a frequently used term, and indeed one that is sometimes stretched too far. Whether every entity that calls itself a network actually deserves the name can be seriously called in doubt.
Networks develop spontaneously and according to principles that were first explored mathematically in the chaos theory. Networks are not hierarchically structured; each node of a network is equally important. Networks are linked with other networks that exist beside, above and below them. We are all of us tied into networks at all times. Every physician is part of the worldwide network of medicine with its many sub-networks, without which he or she would not be able to practise. In many cases, we are not even aware that we exist within networks. For this reason, and also because of the conditions under which networks have developed, networks function more or less effectively. Networks operate most effectively and can generate synergies for their members if they are moderated by network specialists. That is the case with NETWORK-Lipolysis. This form of moderation is intended to achieve one thing above all: to bring about a change in the way the members view the NETWORK, and a change in the paradigm that the NETWORK serves the members. The new paradigm is, instead, that the member physicians are the NETWORK, and are themselves responsible for its character and state. This means that any confrontations or causes for dissatisfaction are tasks which have to be resolved jointly. This assumption of responsibility also includes raising questions about aspects of the NETWORK which are not yet sufficiently developed, though always under the premise that no outside forces or an ominous leadership are responsible, but all the members together. In view of the fact that they are dealing with the life and health of their patients, the individual doctors must in any case always bear the sole responsibility for their actions. This paradigm change, away from the assignment of responsibility to a static hierarchy - as is the case in societies - to the assumption of responsibility for the state of the NETWORK by the individual members, frees up potential for cooperation and synergies that would not be possible in other contexts. The greatest synergy effects always arise where no one expects anything from others, but where everyone contributes to the best of their abilities and thus enriches the whole system, for the system development lies in their own hands and has the character of a process which is never static and which therefore also has gaps and facets which are in need of further development.
Working on this basis, the 395 colleagues from 32 countries all over the world who are members of the NETWORK have, with astonishing speed and in only two years, succeeded in developing therapy standards which have made the therapy highly successful and effective.
One of the main reasons for the spontaneous creation of our NETWORK was ensuring protection for the patients. Our aim is to prevent the occurrence of severe side-effects through uncontrolled use of the drug involved by untrained doctors or by patients treating themselves.
Besides patient protection, which we ensure above all through the use of legally tested forms and standardised training in our workshops, another of the primary tasks of our NETWORK is to develop this as yet very new therapy further.
We have therefore launched an international programme of patient observation and also, since November 2004, installed nine research groups in which you, as NETWORK members, can take part. The first fundamental scientific publication on the subject of injection lipolysis is due to be issued in the near future by one of the members of our Scientific Advisory Board, Dr. Ninian Peckitt. Basic studies to be conducted in cooperation with renowned university institutes are also currently in planning.
The financial aspects of use of the therapy in medical practice are naturally also not forgotten, since the individual doctors must, after all, also work within an economic network. Apart from the intensive one-day workshops - which are, incidentally, certified by the medical registration boards in Germany - no other investments for use of the therapy are needed. Our NETWORK will also assist you when adopting the therapy by providing patient information leaflets and posters for your surgery. A file of before and after pictures as well as a PowerPoint presentation for patient information are also available.
As a certified member, you will be listed on our German homepage www.netzwerk-lipolyse.de or its international counterpart www.network-lipolysis.com with your personal details and the address of your practice. Patient inquiries received by email will be forwarded directly to you. Our supporting agency, Lichtblick, is currently developing a patient information site, which will be offered in the most important languages. A PR agency has also been commissioned to keep the press, radio and TV informed. NETWORK members give papers on injection lipolysis at many congresses in the field of aesthetic medicine.
Membership of NETWORK-Lipolysis is open to all licensed physicians working in private practice or in a clinic. Dentists, naturopaths and nurses are excluded from our training in injection lipolysis.
Why has NETWORK-Lipolysis been set up?
NETWORK-Lipolysis was founded by medical experts who wish to develop the use of this new therapy. They are interested in the evaluation of the risks and efficacy of lipodissolve injections, particularly with a range of different patients and treatment sites. This includes the analysis and development of treatment criteria such as the injection technique, appropriate dosage regimens and the variation of the time intervals between the treatments.
At present there are two differing views relating to lipodissolve treatment.The first position is summed up in the comments of DGÄPC to this topic (see contributions in the Records), and the alternative view is expressed by physicians claiming that the safety of the therapy is so well established that for them a critical review is not necessary.
The members of NETWORK-Lipolysis dissociate themselves from both of these views, not only because both are based upon assumptions and speculations rather than on proven evidence, but also because they may be based on commercial rather than scientific considerations.
NETWORK-Lipolysis has been developed to provide an association of those physicians who are committed to a comprehensive follow-up study of their patients, irrespective of the additional efforts and expense necessary for this.
It was agreed that an important criteria for membership in NETWORK-Lipolysis was an involvement in the monitoring of lipodissolve treatments. Members have agreed to document case studies carefully and to make data available to NETWORK-Lipolysis for the purpose of a statistical evaluation.
Such an approach enables a more rapid collation of results as well as promoting more consistent treatment methodology among the physicians working within the network. This method of monitoring may reveal any risks unknown up to date, as well as to provide a forum to exchange information about the efficacy of this new treatment.